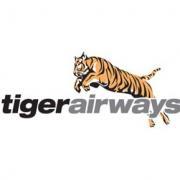 Tiger Airways is relocating to Terminal 2 at Singapore's Changi Airport, and is celebrating with the "Bye Bye Budget Terminal" Sale. One-way fares include SGD22 (USD18) to Kuala Lumpur, SGD50 (USD41) to Phuket or Ho Chi Minh City, SGD88 (USD71) to Hong Kong, SGD180 (USD145) to Perth, and lots more! Fares include taxes/service charge. The sale lasts from March 8 – 14, 2012 only!
Other offers include SGD38 (USD31) to Penang, SGD50 (USD41) to Jakarta, SGD78 (USD63) to Cebu, SDG120 (USD98) to Kochi, and SGD138 (USD112) to Taipei. Visit the Tiger Airways website for full listings.
Quoted prices are one-way fares including taxes and service charges. They are available for select travel dates only from July 1 – September 24, 2012, and are available until sold out. Additional charges apply for checked luggage, on-board meals and beverages, advance seat selection, and payment by credit card.
Visit www.tigerairways.com for more information or to make an online booking.