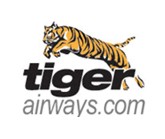 Tiger Airways received their 15 millionth passenger on 5 August 2010 and have announced a promotion to celebrate the milestone. The airline is offering one-way fares from as low as SGD0.15 until 11 August 2010.
The fares, which exclude taxes and other surcharges, are for routes departing Singapore to Kuala Lumpur, Kuching, Hat Yai, Phuket and Krabi.
Flights to Bangkok, Jakarta, Manila, Haikou and Macau are priced at SGD15.
Travel periods vary for each route, and terms and conditions apply.
Visit www.tigerairways.com today to book tickets.