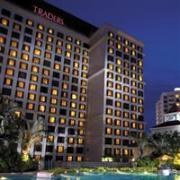 Enjoy the perks of a Club Room at Traders Hotel Singapore for a special price from just SGD310 (USD236). This price includes a complimentary buffet dinner, daily breakfast, evening cocktails at the Club Lounge, and in-room internet access. The minimum stay is 2 nights and 10% service charge and 7% local taxes are additional. The "Smart Traveller's Deal" is available through January 31, 2012.
The quoted price is the lowest rate available during the promotional period. Room rates may be higher on certain dates such as holidays and special events. The "Smart Traveller's Deal" cannot be combined with any other promotions.
The Traders Hotel is a large 4-star hotel near Orchard Road and is managed by the renowned Shangri-La group. Its 546 rooms and suites have a bright, contemporary décor and plush beds, satellite TV, comfortable seating, and luxurious bathrooms. The hotel offers a full array of facilities including a large outdoor pool, fitness centre, restaurants, and easy access to the city's best shopping.
Visit http://www.shangri-la.com/en/property/singapore/traders/ for more information or to make an online booking. The Traders Hotel Singapore can be contacted by calling (65) 6738 2222 or emailing ths@tradershotels.com.