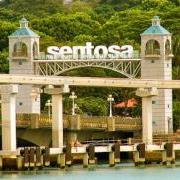 Experience everything that Singapore's fun-filled Sentosa Island has to offer for one price. The new "Sentosa Play Pass" gives visitors access to 13 attractions including the Tiger Sky Tower, The Merlion, Images of Singapore, and Fort Siloso. The pass costs SGD63.90 (USD50) for adults and SGD47.90 (USD38) for children and is valid for one day from 9am – 7pm.
The Play Pass serves as the entrance ticket to 13 attractions and costs 60% less than paying separate admission prices. The Play Pass includes entry to Fort Siloso, The Flying Trapeze, Sentosa CineBlast, Desperados, Sentosa 4D Magix, Tiger Sky Tower, The Merlion, Butterfly Park & Insect Kingdom, Images of Singapore, Bi-Pedal Bicycle, Segway Fun Ride, Luge & SkyRide, and Sentosa Nature Discovery Guided Tour.
There is a surcharge on weekends and public holidays and the Play Pass costs SGD69.90 (USD55) for adults and SGD51.90 (USD41) for children. A half-day Play Pass is also available and includes admission to your choice of 4 of the 13 attractions. Prices are SGD37.90 (USD30) for adults and SGD31.90 (USD25) for children. Half-day Play Passes cost an additional SGD2 (USD1.60) on weekends and public holidays.
For more information about the Play Pass, visit the official Sentosa website at http://www.sentosa.com.sg/. Passes can be bought at ticket kiosks on Sentosa Island. Questions can be directed to guest_services@sentosa.com.sg or 1-800-SENTOSA (within Singapore). The Sentosa Play Pass is an on-going offer and is available until further notice.