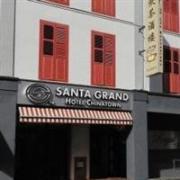 The Santa Grand Chinatown Hotel in Singapore is offering special discounts for online bookings. When you book at least 7 days in advance, rates are SGD124 (USD102) for a Standard Room, SGD152 (USD125) for a Superior Room, SGD180 (USD148) for a Deluxe Room, and SGD208 (USD171) for a Family Room. Prices include taxes and service charge and are valid for stays until November 30, 2011.
Continental breakfast can be added for an additional charge of SGD7 (USD5.50) per adult and SGD5 (USD4) per child. 10% service charge and 7% local taxes are included in the room rate. Promotional rates are not available during peak times such as holidays and the Singapore Formula 1 Race.
The Santa Grand Chinatown is a three-star hotel offering comfortable rooms and a central location for a reasonable price. The 41 guestrooms have lots of personality and modern amenities like cable TV, safe deposit box, and complimentary in-room internet access. The hotel is a short walk from Chinatown where you'll find street markets, temples, shopping malls, and wonderful restaurants.
Visit http://www.santagrandhotels.com/chinatown.asp for more information or to make an online booking. Bookings can also be made by calling (65) 6298 8889 or emailing reservation@santa.com.sg.