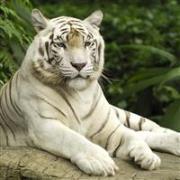 Save up to 20% by buying a 3-in-1 "Park Hopper" ticket to the Singapore Zoo, Jurong Bird Park, and Night Safari with tram ride. This combined ticket costs SGD58 (USD47) for adults and SGD38 (USD30) for children age 3 – 12. The ticket is valid for 30 days so visits to the three parks can be spread out. Tickets can be purchased online or at any of the participating parks.
2-in-1 tickets are also available. A "Park Hopper" ticket to the Night Safari and Jurong Bird Park costs SGD42 (USD34) for adults and SGD28 (USD23) for children. A ticket to the Singapore Zoo and Jurong Bird Park costs SGD32 (USD26) for adults and SGD21 (USD17) for children. The quoted prices include 7% GST.
This trio of nature-themed parks consistently ranks among Singapore's best family-friendly attractions. The Singapore Zoo is a world-class rainforest zoo notable for its open-concept exhibits and Southeast Asian animals like orangutans and tigers. The Singapore Night Safari is the world's first night zoo with a rare chance to observe nocturnal animals like leopards and bats. Located in western Singapore, the Jurong Bird Park features 380 species of birds from all over the world.
Visit http://www.zoo.com.sg/ for more information. "Park Hopper" tickets can be booked in advance online or purchased at any of the three parks.