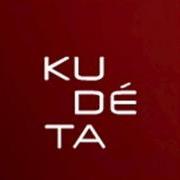 Dine, drink, and dance like never before at KU DÉ TA, the new restaurant and bar at the Marina Sands Skypark. Located 200 meters up in the air, KU DÉ TA has instantly become an icon for its inspired menu, five-star service and, of course, the dizzying views of Singapore.
The multi-tiered restaurant offers al fresco or indoor seating and is ideal for any meal from a formal business lunch to a romantic dinner by candle light. The dishes draw inspiration from Japan, Thailand, and China, and are made using the freshest organic ingredients. KU DÉ TA's Chief Sommelier can help you select the perfect bottle of wine to complement your meal.
When the sun sets, KU DÉ TA morphs into an exciting nightlife venue with a live DJ, state of the art sound system, intimate dance floor, and open air Vue Terrace. The club's signature cocktails are prepared by mixologists at the Sky Bar and the drink menu features exotic concoctions like a coconut-mango daiquiri or a martini with lychee and lemongrass. Cover charge is SGD50 (USD38) and includes one drink.
The name is a play on the French phrase "coup d'état" and, if you think it looks familiar, you're right – the original KU DÉ TA is located in Bali's trendy Seminyak district and remains one of the island's hottest spots after 10 years. Even though it just opened, the Singapore location is already generating a similar buzz.
For more information about menus and special events, check out the official website at http://www.kudeta.com.sg. For reservations, call (65) 6688 7688 or email reservation@kudeta.com.sg.