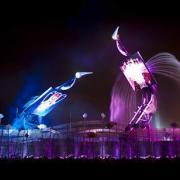 The Crane Dance, the newest attraction at Resorts World Singapore, is officially open and lighting up the Sentosa Waterfront nightly at 9:00pm. This free show is the creation of Emmy-award winning designer Jeremy Railton and, with each crane standing 10 storeys tall and weighing 80 tonnes, The Crane Dance is the largest dancing animatronics performance in the world.
The Crane Dance is a modern interpretation of a classic Asian folk story where artificial birds come to life through the power of love. The graceful courtship dance of the giant robot cranes is accompanied by colorful lights, spraying water, pounding music, and jumbo TV screens with animation on each bird's body. The performance takes about 10 minutes and is suitable for all audiences.
The giant metal birds and the waterfront amphitheater took over 3 years to complete and the show officially premiered on December 25, 2010. The Crane Dance performance takes place at 9:00pm each night at the Waterfront area of Resorts World Sentosa and is easily accessible by monorail. There is no admission charge, but it is advisable to arrive early to secure good seats at the open-air amphitheater. Drinks and snacks are available from vendors.
For more information about the Crane Dance and other Resorts World Sentosa attractions, visit their official website at http://www.rwsentosa.com/.