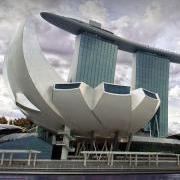 Singapore's new ArtScience Museum, the first of its kind in Asia, officially opened on February 19, 2011. The museum has 3 permanent galleries that explore the dynamic relationship between curiosity, inspiration, and expression and will also host special exhibits like the current Genghis Khan exhibition. Admission is SGD30 (USD23.50) for adults and SGD17 (USD13.50) for children aged 2 – 12.
Part of the Marina Bay Sands complex, the ArtScience Museum has a lotus inspired design and other unique architectural features like a floating staircase. The museum embraces a diverse array of subjects from history and classic art to technology and media. Special exhibits include a showcase on 13th century Mongolia, a highly interactive exhibit about the Silk Road, and a collection of over 60,000 objects recovered from a ship that sunk over 1,000 years ago.
The ArtScience Museum is open daily from 10am to 10pm. Tickets can be purchased at the museum or in advance online. For more information about the museum and its current exhibits, visit the website at http://www.marinabaysands.com/ArtScienceMuseum/.